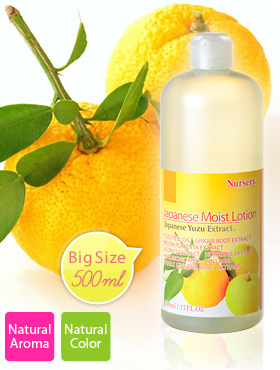 Moisturizes skin
Nursery Japanese Moist Lotion
Yuzu
Nursery originated, Combination of Japanese YUZU with gent flavor in Big Package.
(N.B.)Nursery product is not edible.Please attention especially for children.

The Most Favorite Combination of Botanical Extracts by Japanese.
Glycyrrhiza*1, PEONIA ALBIFLORA*2, CRATAEGUS CUNEATA*3 so on
Formulated enzyme and botanical placenta, Restore Your Skin's Resilience.
RICE FERMENTED LIQUOR, CARAGANA SINICA FERMENTED LIQUOR EXTRAC*4, MELON PLACENTA *5
Naturally Yuzu-Flavored Lotion
Free from artificial fragrances, colors and dyes.
500ml Large Bottle
Designed for face and body.
*1 Glycyrrhiza ROOT EXTRACT *2 PEONIA ALBIFLORA ROOT EXTRACT *3 CRATAEGUS CUNEATA EXTRACT *4 SACCHAROMYCES/CARAGANA SINICA ROOT EXTRACT *5 MELON PLACENTA
>>> Usage
Apply to face and throat all over after washing.